Development professionals have a lot on their plates these days. From reaching fundraising goals to managing communication with donors, it can be hard to stay on top of the to-do list in normal times.
Now that many of us are working remotely, juggling family and work under COVID-19 pandemic conditions, it's more challenging than ever to get everything done and stay connected with your team. Have no fear! We rounded up some of the best free or inexpensive software tools to help fundraisers and development professionals conquer their regular tasks.
These tools will help you work more efficiently and stay in touch with your entire staff while working remotely. We've broken them down into these categories:
Use the links above to jump to a specific section, or follow along with us from the top. You'll be building out your nonprofit's toolkit in no time!

Best All-in-One Nonprofit Toolkit: Soapbox Engage
The Soapbox Engage suite of fundraising and engagement apps is an all-in-one nonprofit toolkit. Our solutions can support any aspect of online donor engagement, including:
Donations
Event and class registrations
Online advocacy and petitions
Custom forms and surveys
eCommerce
Our apps are an ideal solution for nonprofits that need to get up and running with advanced virtual fundraising features quickly. While not free, our suite of nonprofit software is an affordable and flexible long-term choice.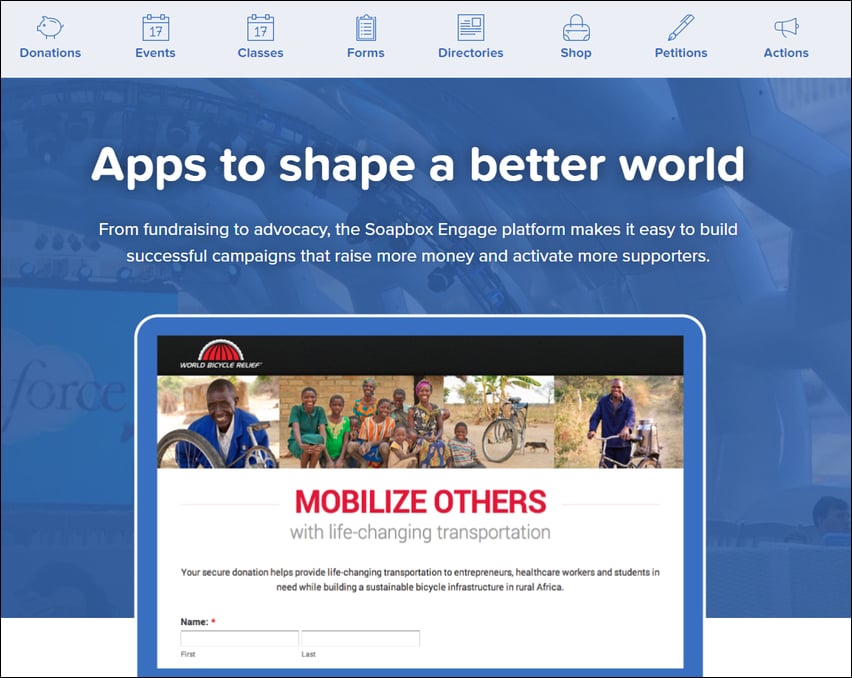 Many growing organizations struggle to find the right middle ground between free but ineffective software and effective but expensive software. Starting at $49 per month per app, the Soapbox suite lets nonprofits build custom, enterprise-quality toolkits without needing to commit to an overwhelming or overpriced new platform.
Explore these success stories to see how growing nonprofits like yours have used Soapbox Engage apps to fundraise and engage online audiences.

Free Tools for Nonprofits: More Options for Every Need
Whether you're working remotely or settling into a new hybrid solution, the right tools make all the difference. Let's dive into more tools for nonprofits that can streamline your team's tasks, starting with software and platforms for strengthening your online fundraising and virtual engagement efforts:
Free Tools for Nonprofits: Fundraising and Virtual Engagement
Bonfire - Best for Selling Merchandise Online
Bonfire is an online merchandise design and sales platform designed for nonprofits. With flexible options to sell your custom t-shirts directly to supporters or launch a crowdfunding-style campaign, Bonfire can help you raise money and get your organization's name out there! Launching a campaign is 100% risk-free.
Fundly - Best for Crowdfunding Campaigns
Fundly is a crowdfunding platform designed for nonprofit organizations. While many similar platforms are ideal for individuals, Fundly offers the more advanced design, data, and marketing features that an organization needs. It's completely free to start a Fundly campaign, and there are minimum fundraising requirements before you can keep your funds.
Mobilize - Best for Volunteer Recruitment
Mobilize is a volunteer recruitment and management platform for mission-based organizations of all sizes. Post your in-person or virtual events to their rapidly growing network of passionate volunteers looking for their next cause to support. Mobilize is trusted by nonprofits, advocacy organizations, and even presidential campaigns. It's completely free to use Mobilize's core event registration and volunteer management tools.
YouTube - Best for Video Content
YouTube is the household name for video content, but it's often overlooked by nonprofits. It's a powerful outlet for sharing your organization's videos (like campaign announcements and recorded livestreams), and it allows you to very directly communicate with your audience. Plus, YouTube Social Impact offers free built-in donation tools, interactive features, and extra resources for verified nonprofit organizations.
Facebook Live is the leading livestreaming platform for organizations and individuals alike. With intuitive tools for streaming from a smartphone or camera, Facebook Live is a great option for casual livestreams or more complex programming. Plus, you can embed a donate button into your videos to raise extra support! As a platform that your audience is already familiar with, Facebook Live is a natural choice for streaming your virtual events.
Nabble - Best for Online Forums
Nabble is a free platform for creating online discussion forums. As nonprofits have shifted more of their engagement strategies to the virtual sphere, having a dedicated place for your community to discuss your mission, campaigns, and ongoing challenges is an easy way to strengthen your connections. Plus, Nabble's forums are easily embedded into your own website.
SignMeUp - Best for Event Sign-Ups
SignMeUp is an online event registration platform for organizations of all sizes. Whether you're hosting virtual events or organizing in-person activities, effective registration processes will be key to keep everyone on the same page. SignMeUp is free to use, registrants just pay a service fee when signing up for events.
Fundraising Report Card is a free fundraising analytics tool for nonprofits. Simply import your fundraising data and start studying your performance using their pre-set dashboards for a wide variety of KPIs and performance metrics. Organizations of all sizes rely on Fundraising Report Card to learn more from their data and continually improve their outreach and fundraising efforts.
Explore Fundraising Report Card!
For more fundraising tools for nonprofits and in-depth explainers, check out our more comprehensive guide to free fundraising software!
Free Tools for Nonprofits: Productivity
Slack - Best for Communication
Slack is a chat room-style communication platform perfect for organizations that have shifted to remote work environments. Designed as a replacement for endless email chains, Slack is built around organized "channels" dedicated to specific projects, teams, or any other work topic that needs its own discussion space. Slack has quickly become a standard tool for all kinds of businesses and organizations, so explore adopting it for your nonprofit if remote communication has been a challenge.
Microsoft Teams is the tech giant's collaboration platform ideal for organizations that are already using Microsoft Office 365 or the Microsoft Dynamics CRM solution. It includes a full range of collaboration features to streamline your nonprofit's work, including chat, scheduling, video conferencing, and document sharing tools. Seamless integrations between Teams and other Microsoft platforms make this a great choice for increasing efficiency.
If your organization prefers Google tools over Microsoft, no worries. The Google Suite of cloud-based software can help take your team's productivity to the next level. With tools for document collaboration, calendars, spreadsheets, email, and more, the suite makes it easy for your team members to access and contribute to your projects from anywhere. Plus, all of your work is centralized within a shared Drive for easier access and organization.
Wave - Best for Nonprofit Accounting
Wave offers accounting apps for small and growing organizations. With tools for accounting, invoicing, payroll, and receipt scanning, Wave can help your small nonprofit tackle accounting like a longtime pro. The platform's core accounting features are completely free, making it a great choice for organizations that need professional-grade accounting tools but can't afford to hire an external service or full-time accountant.
Trello - Best for Project Management
Trello is an online project management platform designed to take the guesswork out of tracking your projects and campaigns. Structured with customizable to-do lists, Trello lets your team create individual "cards" for tasks and move them along your workflow over time. Trello is one of the most intuitive online project management platforms that's risen in popularity over recent years, so it might be a good addition to your nonprofit's toolkit.

Free Tools for Nonprofits: Marketing & Design
Google Analytics is a powerful tool for tracking how audiences engage with your nonprofit's website. After you install Analytics, you'll have access to a huge range of data about your audience and how they found your website. For nonprofits taking a more strategic approach to digital marketing (as all nonprofits should!), these insights are invaluable. Google Analytics is completely free to use.
Ubersuggest - Best for Search Engine Optimization
Ubersuggest is a free SEO (search engine optimization) resource. An effective SEO strategy will ensure that your nonprofit's site performs well on search engines, making it easier to find and more likely to attract new supporters. Ubersuggest's free keyword research tools and domain scanning features can give you an easy and free way to get started with the world of SEO.
Hootsuite - Best for Social Media Marketing
Hootsuite is an online marketing software platform designed to help organizations make the most of their social media strategies. Hootsuite includes a wealth of features for publishing and analyzing your posts on all the leading social media platforms, plus tools for monitoring conversations around your core topics and creating social media advertising campaigns. Hootsuite offers a free basic plan that supports 3 social media profiles, perfect for small nonprofits.
Canva - Best for Graphic Design
Canva is a drag-and-drop design tool that lets you easily create beautiful graphics for your social media posts, website, emails, flyers, or anything else. The core design tools and templates are free to use, but stock photos, additional fonts, and advanced features are paid. Graphic design is more important than ever to ensure your campaigns stand out online, so using the right tools will give you a definite leg up.
Unsplash - Best for Stock Photos
Unsplash is an online platform for professional and amateur photographers to upload their work for free public use. Nearly all of the photos on Unsplash are free to use (although acknowledging and tipping the photographer is highly recommended). This platform offers a much wider range of high-quality images than many paid stock photography sites, so take some time to explore it the next time you need photos for your marketing materials.
LunaPic - Best for Photo Editing
LunaPic is a free photo editing and graphic design tool. With a complete set of features for editing photos and adding borders, filters, and effects, LunaPic is an invaluable resource for quick touch-ups and edits. Small nonprofits without access to advanced editing software should definitely bookmark this free tool.
Wrapping Up
Free online tools for nonprofits can play an extremely important role for growing organizations. It takes a lot of work to get your first campaigns and marketing efforts up and running, and the right tools make all the difference. Free and inexpensive options will typically be much more accessible and immediately useful for small teams.
However, when it comes to critical tasks that sustain your nonprofit (like accepting donations), put extra thought into the first tools you choose.
100% free donation platforms won't always be the right choice. Without more advanced customization and data reporting options, it can be especially difficult to control the donation experience for donors and learn more from your fundraising data. Modular suites of nonprofit apps designed to work well together will often be a better long-term choice because they offer more options and can easily grow along with your nonprofit.
Keep researching the world of nonprofit tech as you build your nonprofit's toolkit! Here are some additional resources to get the ball rolling: