Growing nonprofit organizations ready to dive into online fundraising are faced with one immediate question: How will we accept and process online donations from supporters?
As organizations of all sizes rely more than ever on online fundraising and virtual engagement to generate support for their work, this is an increasingly important question.
When looking for a first donation tool, many organizations think of PayPal, a familiar name in online payment processing. Venmo is another increasingly popular option for quick transactions through mobile devices. While these solutions are great choices for many sectors that do business online, it's definitely worth putting some extra thought and strategy into this decision. 
Nonprofit payment processing plays a direct role in determining how effectively you can fundraise online, and without the right nonprofit-specific tools, you can unknowingly hold yourself back.
With this quick guide, we'll walk through everything your organization needs to know before choosing a payment processor, plus some alternative providers to consider. Here's what we'll cover:
Ready to get started? Let's dive in.
[fundraising-newsletter-cta][/fundraising-newsletter-cta]
Why Not PayPal or Venmo for Nonprofits?
There are a few reasons why PayPal and Venmo for nonprofits might not be the best choice for growing organizations. These reasons include:
Fewer customization options. Your nonprofit will likely want to edit the specific fields that donors complete while making a donation. This is critical for ensuring your data provides the value and insights you need. PayPal and Venmo don't give you the same level of customization that other fundraising-specific options do.
Less control over the donation experience. The actual experience of making an online donation plays an important role in boosting conversions and driving more transactions to completion. While general options might provide a fast donation experience, more control over options and branding will help ensure donors associate that positive experience with your nonprofit's brand rather than PayPal or Venmo.
Less or clunky access to data. The data generated by your fundraising campaigns is invaluable for helping you improve your outreach strategies down the line. PayPal gives you access to your transaction data, but in a way that might create more logistical challenges for your team. As a platform designed primarily for individuals, Venmo will give you very little access to the full data you need.
Negligible discounts for nonprofits. While PayPal does offer discounted transaction fees to nonprofits, the total fees per transaction often aren't very different (and in some cases, are more) than what you'd pay with nonprofit-specific PayPal alternatives. It's important to fully understand the fee structures of any donation processing solutions you consider.
Fewer available integrations for nonprofit systems. As your organization grows, your toolkit will expand to include database, marketing, and virtual fundraising solutions, to name a few. While PayPal does integrate with many popular fundraising platforms, it's not a guarantee. Without a seamless integration between your donation processor and other tools (especially your database), you create more work for your team.
PayPal alternatives for nonprofits, specifically designed for the needs of fundraising organizations, will typically be the smarter choice overall. This is especially true today, as social distancing guidelines have made online fundraising and virtual events essential for keeping up revenue and donor engagement.
Top PayPal Alternatives for Nonprofits
Let's walk through a few top Venmo and PayPal alternatives for nonprofit organizations. Each of these solutions provides the features and options that can help generate more long-term value for your nonprofit over a more generic payment processing solution.
1. Soapbox Engage: Top Complete Suite of Online Fundraising Apps
Overview of this PayPal Alternative for Nonprofits
The Soapbox Engage suite of online fundraising and engagement apps is a complete set of tools designed specifically for nonprofits. With apps for accepting donations, managing event registrations, sharing petitions, and more, our tools help growing organizations get up and running with professional-grade software quickly.
Specifically, our Donations App is an ideal choice for nonprofits that want the reliability and security of PayPal but also need the full customization and technical features necessary for long-term fundraising success. The app's top features include:
Unlimited and completely customizable donation pages
Built-in peer-to-peer fundraising options
Robust data reporting capabilities
Seamless integration with the Salesforce CRM platform
Full mobile optimization for all donation pages
Most importantly, our donations app offers a feature that's unavailable in most comparable tools: the ability to choose your own payment processor.
With Soapbox Engage, you can choose your ideal donation processor from a range of leading providers, including some that specialize in donation processing for nonprofits. Plus, you can still include PayPal as an option for donors who prefer it. It's a win-win!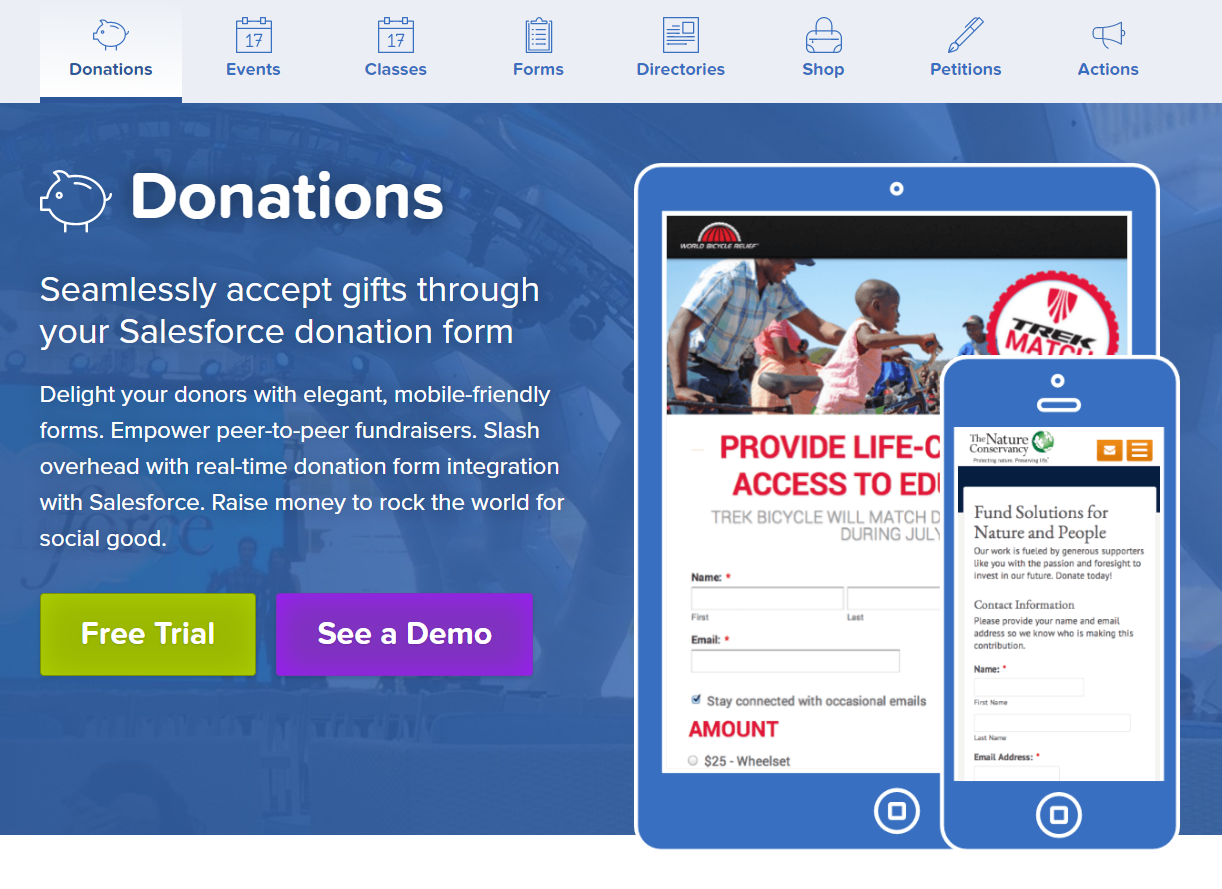 This Solution is Best For:
Soapbox Engage is the best donation processing solution for any nonprofit that needs more flexibility in its fundraising software. 
With the ability to build the customized donation experience and process that's right for your unique organization, Soapbox Engage is a top PayPal alternative for growing nonprofits. Check out a demo of our donations app to see each of these features in action!
2. Stripe
Stripe is a leading payment processor for a wide variety of sectors, especially eCommerce. As a major PayPal competitor, Stripe offers the full range of payment processing functions and features that any organization might need, including recurring payments. Millions of companies and organizations use Stripe to create the perfect transaction experience for their customers and donors.
This Solution is Best For:
Stripe is an ideal solution for organizations that want a high level of technical customization. If your organization is technically-savvy, Stripe's wide library of APIs and developers-first approach makes it easy to customize practically any aspect of the transaction experience. 

Plus, Stripe can process payments through the Soapbox Engage donations app, letting you fine-tune the donation process from the larger donation page down to the nitty-gritty technical process of the transaction itself.
3. Braintree Payments
Braintee Payments is a payment processing platform (actually designed and operated by PayPal!) that can handle all of your large nonprofit's donation processing needs. Braintree is an enterprise-level provider ideal for organizations that want the reliability of PayPal but have much more advanced needs than a simple online donation form will satisfy. 
This Solution is Best For:
Braintree's payment processing services and tools are ideal for large organizations that want to grow their global audience. 

A very large portion of online consumers from outside the US tend to prefer PayPal for making purchases and donations, so Braintree's seamless connections with the PayPal platform can give you a major leg up in reaching international audiences. 
4. Authorize.net
Authorize.net is a payment processing solution developed by Visa. This PayPal alternative for nonprofits includes all of the core processing features an organization needs to get up and running with online fundraising.

Plus, their processing services and tools are backed up by Visa's advanced fraud detection capabilities.
This Solution is Best For:
Authorize.net is a great PayPal alternative for nonprofits that need to accept a wide variety of payment types. This solution accepts credit and debit payments, e-checks, and Apply Pay through online forms, mobile card scanners, virtual point of sale systems, and even over the phone.
5. iATS Payments
Overview of this PayPal Alternative for Nonprofits
iATS Payments is a payment processor specialized in handling online donations for nonprofits. With industry-standard features, competitive pricing, a mobile app for in-person payments, and deep knowledge of the nonprofit sector, iATS is a great choice for any organization getting started with online fundraising and looking for a reliable partner. 
Plus, iATS can process payments through your Soapbox Engage donation pages, combining the flexibility of our software with the reliability of a legacy processor in the nonprofit sector.
This Solution is Best For:
iATS Payments is a great donation processor and PayPal alternative for nonprofits looking for complete support. Their focus on the needs of nonprofits, in particular, makes them a strong choice for organizations that are new to accepting donations online and want personalized support and options.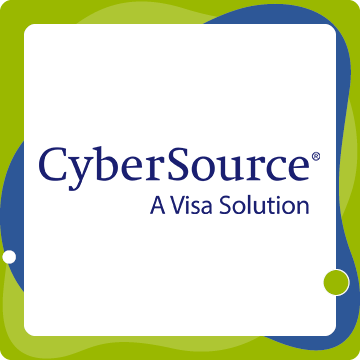 6. CyberSource
CyberSource is another Visa-built payment processing system and PayPal alternative. With a complete range of payment processing features built for commerce, this platform is another strong choice for many nonprofit organizations. Its ability to easily accept payments worldwide makes it a standout among many competitors, including PayPal, that offer mixed experiences for international transactions.
This Solution is Best For:
CyberSource is an excellent donation processing solution for larger organizations that are especially concerned with safety.
This platform's advanced fraud detection and management features and complete point-to-point encryption for all payment methods make it a great choice for organizations that want additional precautions and support beyond industry-standard PCI-compliance.
7. TouchNet
TouchNet is a top PayPal alternative for nonprofit organizations, specifically colleges and universities. Going with a provider that has expertise in your specific field is often the smartest move, and TouchNet is the leading provider of payment and credentials solutions for the higher education sector. Plus, their tools' robust data reporting and analytics capabilities ensure that even the largest files of complex transaction data won't overwhelm your team.
This Solution is Best For:
TouchNet's payment processing tools are tailor-made for higher education organizations. For these organizations with complex payment processing needs, a generic solution like PayPal won't provide the support and specialized features needed for long-term success. 
Donation Processing: Our Pro Tip
For growing nonprofit organizations, getting started with online donation processing and researching PayPal alternatives can definitely feel like a challenge. How do you know where to start?
Our biggest tip for nonprofits that are new to the world of payment processing is to look for nonprofit-specific software. Specifically, look for fundraising software that allows you to choose the payment processing service you'll use.
With the freedom to choose how you'll process donations, you get the benefits of both the donation tool and the processing service. Without this flexibility, you can get locked into using a payment processor that doesn't truly meet your needs in terms of options, data reporting, or fee structures. The Soapbox Engage donations app is a great example of fundraising software that gives you complete control over the donation experience, from the design of the pages your donors interact with down to the behind-the-scenes processes that turn keystrokes into tangible support for your cause. 
Before diving headfirst into choosing any solution, it's a good idea to do your research. Unfamiliarity with how payment processing works is often why small organizations end up choosing dominant processors like PayPal or popular new platforms like Venmo without understanding the full range of options available. For a complete rundown of the payment processing process and what to look for in a processor, we recommend our complete guide to nonprofit payment processing.
To learn even more about online fundraising and what it takes to succeed online, check out these additional resources:
[fundraising-newsletter-cta][/fundraising-newsletter-cta]