Microsoft Dynamics 365 for Nonprofits is a name you're likely to hear very frequently in the nonprofit tech space over the next several years.
As Microsoft's own cloud-based CRM platform, Dynamics for Nonprofits offers a new technology option for organizations of all sizes. If you're already using a range of Microsoft products (or have heard of Microsoft's generous Tech for Social Impact initiative) but haven't yet heard of Dynamics, you're definitely going to want to have it on your radar.
As a new and quickly evolving choice for nonprofits, you'll probably have a few questions about Dynamics for Nonprofits as you start to get your bearings. Here at Soapbox Engage, we're experts at helping nonprofits connect with their constituents in today's increasingly digital world. We've got you covered with this overview of Microsoft Dynamics 365 for Nonprofits. Here's what we'll cover:
Use the links above to jump to a specific section, or follow along with us from the top. Microsoft Dynamics 365 for Nonprofits represents an exciting and long-awaited development in the nonprofit tech world. Even if you're not looking to make a switch yet, familiarizing your team with the basics of this platform now will put you in a strong position to effectively explore your options down the line. Let's dive in.
---
Microsoft Dynamics 365 for Nonprofits FAQ
We'll start by walking through a few common questions about Microsoft Dynamics for Nonprofits:
What is Microsoft Dynamics for Nonprofits?
Microsoft Dynamics 365 for Nonprofits is a constituent relationship management (CRM) system developed by Microsoft and specifically configured for use by the nonprofit community. It's been in development for several years and continues to evolve, but Dynamics for Nonprofits has now become a viable and attractive database choice for many organizations.
The Dynamics 365 component is one part of the larger ecosystem. It's essentially the core CRM frame or structure on which your nonprofit is able to build a more complete structure of data management tools and fundraising, engagement, and productivity apps over time.
If you're familiar with the Salesforce Nonprofit Success Pack, this structure of a core CRM plus optimizations and add-ons is fairly similar. We'll compare the two platforms in a section below.
What is Microsoft TSI (Tech for Social Impact)?
Microsoft Tech for Social Impact (TSI) is a philanthropic initiative launched by the company in 2017 as a part of its broader Microsoft Philanthropies efforts. Microsoft TSI is aimed specifically at empowering nonprofits to leverage Microsoft cloud technology in order to more effectively pursue their missions. There are three main prongs to the Microsoft TSI approach:
Microsoft offers 501(c)(3) nonprofits a wide array of software for free or at a discount. This includes their Office suite, Azure cloud computing services, and Microsoft Dynamics 365.
Microsoft TSI fosters collaboration on the development of open-source nonprofit resources, namely the Nonprofit Common Data Model (more on this below).
The company reinvests its profits from the nonprofit sector back into the two initiatives listed above as well as in additional grants to nonprofit organizations.
For a complete explanation of these initiatives and how nonprofits can benefit from them, check out our complete guide to Microsoft TSI.
What is the Nonprofit Common Data Model?
The Nonprofit Common Data Model (CDM) is an open-source data model being developed through Microsoft TSI and the efforts of other developers in the nonprofit field.
Basically, the Nonprofit CDM aims to create a universal way for nonprofit-specific data points, entities, and attributes to relate to one another. The ultimate goal is to create a standardized data language for the sector that will allow for unprecedented ease of data flow between applications. Integrations and data imports between platforms would become easier than ever, unlocking new levels of efficiency for nonprofits of all sizes.
To get into the details, we recommend our longer guide to the Nonprofit CDM.
What is the Dynamics 365 Nonprofit Accelerator?
The Dynamics 365 Nonprofit Accelerator is a set of pre-configured views that makes Microsoft Dynamics more immediately functional for nonprofits. As a kind of "starter pack" for the system, the Nonprofit Accelerator gives you access to the Nonprofit CDM and pre-built workflows, a program design template, and sample apps and dashboards to help get you started. Learn more with Microsoft's explainer here.
How do they all fit together?
Clearly, the entire Microsoft Dynamics system includes a lot of moving parts! Here's how you might conceptualize the Dynamics for Nonprofits structure: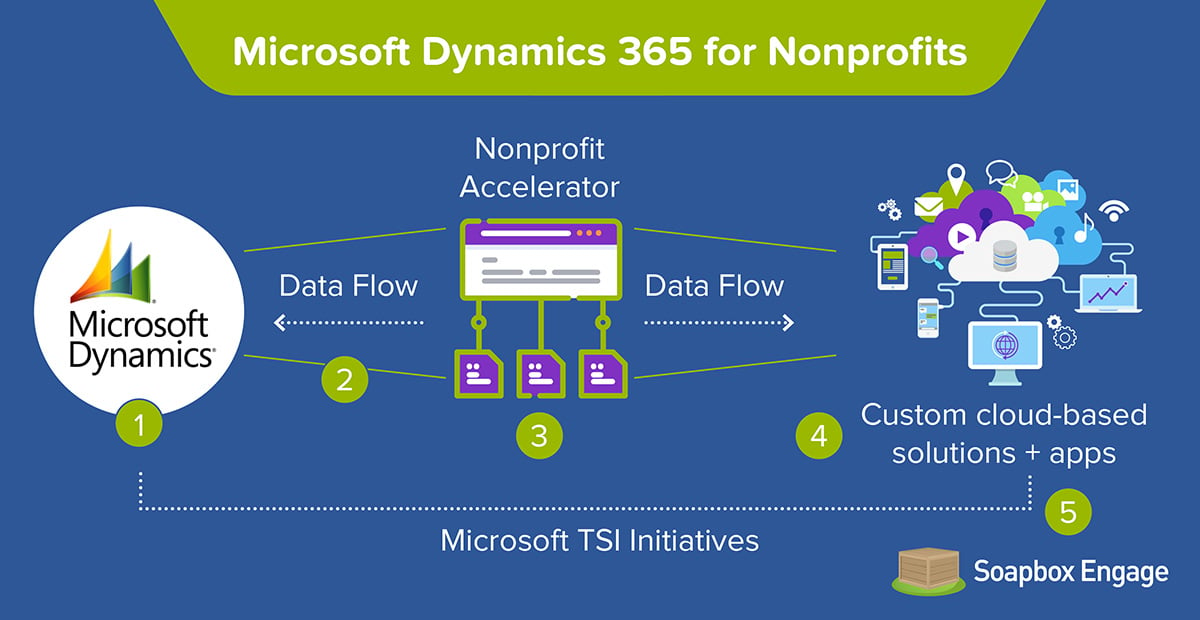 Your Microsoft Dynamics 365 instance serves as the core CRM engine of the system, storing your data. It's powered by Azure, Microsoft's cloud computing services.
The Nonprofit CDM provides the data language that allows you to manage your data in meaningful ways and generate actionable insights.
The Nonprofit Accelerator is pre-configured to translate your data into specific views, dashboards, and custom reports for your nonprofit. It's like the lens or conduit that makes your data useful on the day-to-day level of operations.
Through the flow of data from the core Dynamics CRM (via the Common Data Model and Nonprofit Accelerator's functions), you can build out your own customized, cloud-based data management solution. With the standardization offered by the CDM, it's easy to add additional apps and integrated software into the mix.
The whole structure is made possible by support from Microsoft TSI initiatives and the work of developers on the Nonprofit CDM.
If you're familiar with Salesforce and their Nonprofit Success Pack, the overall structure is fairly similar. We'll compare the two platforms below, but first, we'll walk through some of the main reasons why an organization might benefit from adopting Microsoft Dynamics 365 for Nonprofits system.

Benefits of Microsoft Dynamics for Nonprofits
There are a few major benefits for nonprofits that decide to make the move to Microsoft Dynamics 365 as their CRM platform of choice:
Microsoft is the legacy choice for many organizations. Nonprofits of all shapes and sizes already rely on Microsoft's extremely popular ecosystem of productivity software and computing services. Do you use Microsoft Word, Excel, Teams, or Skype? Seamless connections between these tools and Dynamics can have huge impacts on your nonprofit's productivity.
Dynamics for Nonprofits offers a flexible app-based structure. With the system's high level of openness and the underlying Common Data Model, Dynamics makes it easier than ever to build a truly customized, flexible tech stack that suits your needs. Our own Soapbox Engage suite of fundraising and online engagement apps is a great example. Ready-made software like ours can easily be plugged into the Dynamics system, helping nonprofits get up and running quickly while also ensuring fully integrated functionality.
Microsoft Tech for Social Impact offers generous support. The free software, steep discounts, and grants offered through Microsoft's philanthropic initiatives definitely make Dynamics a smart move for many organizations. Keep Microsoft TSI's offerings and developments on your radar. The Nonprofit Operations Toolkit is a great example of the level of functionality that small organizations can quickly adopt thanks to Microsoft TSI initiatives and the Common Data Model.
Dynamics 365 for Nonprofits has a relatively low barrier to entry. All of the reasons listed above contribute to making Dynamics an advanced, cloud-based option that's relatively easier to adopt than comparable systems. Enterprise-level, standalone CRM platforms as well as other cloud-based CRM ecosystems can be more difficult to implement, configure, and customize. The Nonprofit Common Data Model plays a huge role in making Dynamics 365 a smoother choice for many organizations.
We'll see Microsoft Dynamics 365 become an increasingly popular choice for organizations of all sizes over the coming years. Like Salesforce, its most comparable competitor, Dynamics offers a level of flexibility and scalability that older types of CRM software can't match.

Comparing Microsoft Dynamics and Salesforce
Nonprofits considering making the move to a cloud-based CRM platform will likely find themselves weighing two main options: Microsoft Dynamics 365 for Nonprofits and the Salesforce Nonprofit Success Pack.
For organizations that are new to this type of CRM software (or to professional-grade CRM software in general), understanding the differences between the two platforms might be tricky. Here's a high-level comparison of a few key areas:
Their Strategies
Both Microsoft Dynamics and Salesforce have anchored their strategies in empowering the nonprofit sector with free and discounted enterprise-level tools:
Microsoft's Tech for Social Impact initiatives offer free and discounted software, including Dynamics, and fosters the creation of the game-changing Common Data Model.
Salesforce offers nonprofits free licenses for their Nonprofit Success Pack (NPSP), a pre-configured set of functions similar to Microsoft's Nonprofit Accelerator described above.
Both platforms foster productive discussions and collaboration between their communities of users, encouraging open-source collaboration and freely sharing a wide variety of training resources. Although the move to a new CRM platform can be a major undertaking, with both Microsoft Dynamics and Salesforce, your organization won't be alone in the process.
Their Networks
One hallmark of newer cloud-based CRM platforms is the use of networks - of providers, users, developers, and other stakeholders - to strengthen the user experience, streamline adoption, and provide key services and insights. Both Microsoft Dynamics and Salesforce rely on networks of third parties, but in slightly different ways:
The Microsoft Dynamics ecosystem follows a more decentralized structure of networked providers, consultants, and developers. If you've ever worked with a platform's channel partners trained to resell and represent their products, the idea is similar. The network of official Microsoft Dynamics partners to help you implement and configure the platform is steadily growing. In addition, the Nonprofit Common Data Model also provides a common language for third-party developers to create new nonprofit-specific apps that can be seamlessly plugged into the Dynamics system.
The Salesforce network of providers and experts is also open but more centralized. Third-party apps can be seamlessly integrated into the Salesforce platform as well, but Salesforce directly controls which tools are approved for the Appexchange - their official, central marketplace for apps and integrations. Salesforce itself ultimately wants to facilitate the connections made between nonprofits and providers, which can be helpful and guarantees a more positive experience all around, but it also tends to put a middleman in the process of configuring and customizing your NPSP instance.
Both platforms rely on networks to provide key services, supplemental tools, and positive experiences for the end-user. The key difference is that Microsoft Dynamics users are typically able to work more directly with providers and tech experts to create the exact solutions they need. Salesforce NPSP can also work with third parties, but the interactions are often more mediated.
Their Need for Outside Support
Microsoft Dynamics for Nonprofits and the Salesforce NPSP generally require the support of outside tech experts to implement, configure, and customize the platforms:
Microsoft Dynamics is certainly more complicated than older styles of CRM software. Working with a Microsoft partner or nonprofit technology expert will help ensure a smooth transition and complete adoption. However, Microsoft's ultimate goal with its Tech for Social Impact initiatives is to create extremely accessible, easy-to-deploy cloud solutions for organizations of all sizes and abilities. The Nonprofit Accelerator and Nonprofit Operations Toolkit are early proofs of concept that seem to promise great developments down the line.
The Salesforce platform is a game-changer for organizations ready to make the move. It also requires sometimes large investments of time and resources to be implemented effectively, but the implementation process will become increasingly streamlined and supported as the Salesforce network continues to grow and evolve over time. Organizations of all sizes can adopt the Salesforce NPSP to great success, but understanding the time investment required and having the necessary tech bandwidth on your team is essential.
Making any kind of major tech change for your nonprofit requires careful thought and support in order to protect that investment. Both of the leading cloud-based CRM options for nonprofits typically require outside consultation, but take the time to consider how their differences might affect the process for your own organization.
Their Big-Picture Benefits
One major similarity between Microsoft Dynamics and Salesforce is the range of big-picture benefits they offer. Cloud-based, modular CRM platforms can unlock new levels of efficiency for organizations. Working with an integrated tech stack, generating more data, and using your data in continually smarter ways can fuel serious growth for your mission. The characteristics of this type of platform have very quickly become the standards to look for when choosing any new CRM.
Microsoft's commitment to developing extremely accessible and scalable cloud solutions are now very promising for smaller nonprofits, but any organization with the time and commitment can revolutionize their operations with Salesforce, as well.
---
Wrapping Up
We've walked through the basics of the Microsoft Dynamics 365 for Nonprofits ecosystem, highlighted its key benefits, and compared it to a popular, comparable platform, Salesforce. Getting a grip on any type of tech that's new for your organization is always a challenge, but keep researching! Microsoft is extremely proactive in sharing their documentation, guides, and community resources, so that's a great place to continue learning more.
Additionally, feel free to reach out to our team here at Soapbox Engage with any questions about Dynamics for Nonprofits! We'll be happy to chat about the platform and how it can help your nonprofit as well as to direct your team to additional Microsoft resources.
Microsoft Dynamics 365 represents an extremely exciting development for the nonprofit tech world, and we can't wait to see how it helps organizations around the world more effectively pursue their missions.