Celebrating Jewish culture and the vibrant community of San Francisco
The JCC of San Francisco uses Soapbox Engage to support diverse community programming and a large donor base
The Jewish Community Center of San Francisco (JCCSF) celebrates the vibrant city of San Francisco, explores Jewish culture and traditions as a pathway for joyful, meaningful living, and uses the power of gathering to share, inspire, support and restore.
With such a large and active community, the JCCSF relies on software that can support their diverse programming and large donor base. As early adopters to Salesforce and the Nonprofit Success Pack (NPSP), the JCCSF had a complicated migration process from their old legacy system. They needed software solutions that could integrate with Salesforce and keep their data clean. Luckily, they met their match with the Soapbox Engage Events and Donations apps.
"The seamless integration with Salesforce NPSP and donation webpages with payment processing made our gift entry process more efficient and flexible. The growth of Soapbox Engage with NSPS together keeps our processes current and continuously improving."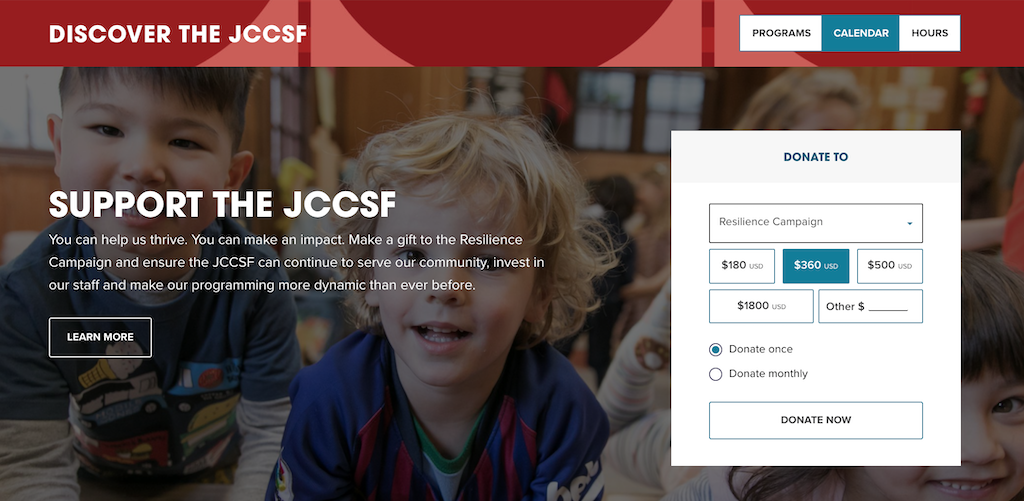 Executing top grade galas and events with the Soapbox Engage Events app
Online and in-person events provide the JCCSF development team with many channels and vehicles to engage existing and new constituents. The JCCSF hosts several annual galas using the Soapbox Engage Events app. The app features allow them to track tickets, sponsorship levels and donations together to see a full picture of the event and its fundraising efforts. Combined with Salesforce reporting, JCCSF staff can easily pull information and produce reports for everyone from Board and Committee Members to Finance and Accounting.
"With the use of Soapbox Engage and it's seamless integration with Salesforce we can enter data once and use it often. Both the Development Team and Accounting use the same data to meet their specific needs in a timely manner and with confidence in the accuracy. No more time spent reconciling data between departments!"
With smooth Salesforce integration, Soapbox Engage helped the JCCSF simply and organize their data structure inside Salesforce. Where previously they were using hundreds of campaigns per year, they now use the same event campaigns year after year and can more readily compare data.
Streamlining gift entry with the Soapbox Engage Donations app
The incredible, community-building work of the JCC of San Francisco is aided by the generosity and support of their donor base. With the use of Soapbox Engage Donations app, the JCCSF has streamlined their gift entry process to create a seamless, user friendly experience for their donors. Automations also allow JCCSF staff members to spend less time on data entry or donation processing and more time on donor cultivation.
The Soapbox Engage Donations app provides timely and accurate data in the JCCSF Salesforce Org. As their organization evolves, the flexibility and reliability of the Donations app supports their shifting needs.
"As donors need change and our organization adapts, Soapbox Engage has been right there with us and developing new and innovative tools for us to support growth."
Measurable results with money-saving software
After implementing Soapbox Engage solutions, the JCCSF began to notice immediate, measurable results. Their direct costs for software went down by 80%. Additionally, they saved countless hours of labor that previously went to manual tasks.
Prior to Soapbox Engage, the JCCSF used spreadsheets to track donor data. Reconciling and recording month-end and year-end data took days. With 100% of their transactions going through Salesforce, they can now close out their fundraising months in a matter of hours. No time is spent on back-and-forth communications between departments; visible data within the organization means development numbers and accounting books are always in alignment.
"Soapbox Engage allows us to focus on donor cultivation and engagement instead of data entry and administrative tasks. We are able to provide accurate and timely information to all levels from the Board level to the Gift Officers and Finance and Accounting."
Fostering community in the time of Covid-19
It has been a rocky year for many in-person organizations, but the JCCSF believes that the hardships of the past year made community more important than ever. Marina Peterson, CMA Director of Accounting and Administration, noted that organizations that were able to adapt to virtual spaces became vital to their cities and towns. She shared, "technology like Soapbox Engage will enable us to survive and eventually bring people back together again."